Step into Christmas Early with Hunters Hair Specialists!
The holiday season is just around the corner, and at Hunters Hair Specialists, we're excited to spread some early Christmas cheer! 🌟
Introducing our festive gift boxes that are sure to make your loved ones' and your own Christmas even more special. Our exclusive gift boxes are the perfect way to pamper yourself or surprise someone you care about.
🎁 What's Inside our Festive Gift Boxes? 🎁
Our gift boxes are carefully curated to include a selection of premium hair care products, accessories, and treats that will make you feel fabulous during the festive season. From luxurious shampoos and conditioners to stylish hair accessories, we've got your holiday hair needs covered.
🎅 Pre-Order Your Festive Gift Box Today! 🤶
Don't wait until the last minute to get your hands on these amazing holiday goodies! To pre-order your festive gift box, simply fill out the form below, and we'll get in touch with you to arrange payment and collection.
🌟 Hurry, Limited Stock Available! 🌟
Please act quickly, as our Christmas stock is limited, and we sell out every year. We wouldn't want you to miss out on the opportunity to make this Christmas extra special.
Eufora Bodifying Gift Box
Bodifying rejuvenating formula helps repair dry, brittle and damage hair. Delivers soft body and bounce.
Bodifying Shampoo 8.25oz
Bodifying Conditioner 8.25oz
Leave In Repair Treatment 6.8oz
Triple Bond Repair 1oz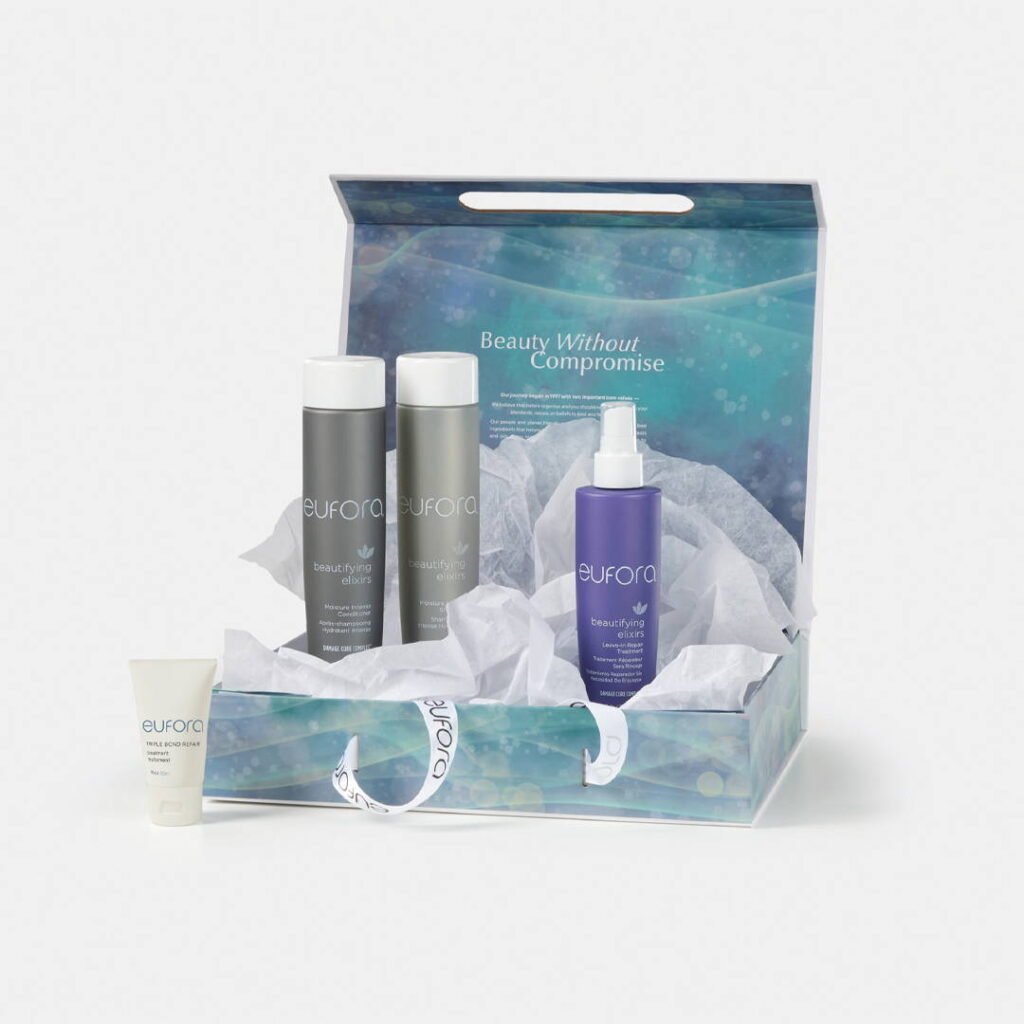 Eufora Moisture Intense Gift Box
Moisture Intense reparative formula restores critical moisture loss and leaves hair soft, shiny and touchable without adding weight.
Moisture Intense Shampoo 8.25oz
Moisture Intense Conditioner 8.25oz
Leave In Repair Treatment 6.8oz
Triple Bond Repair 1oz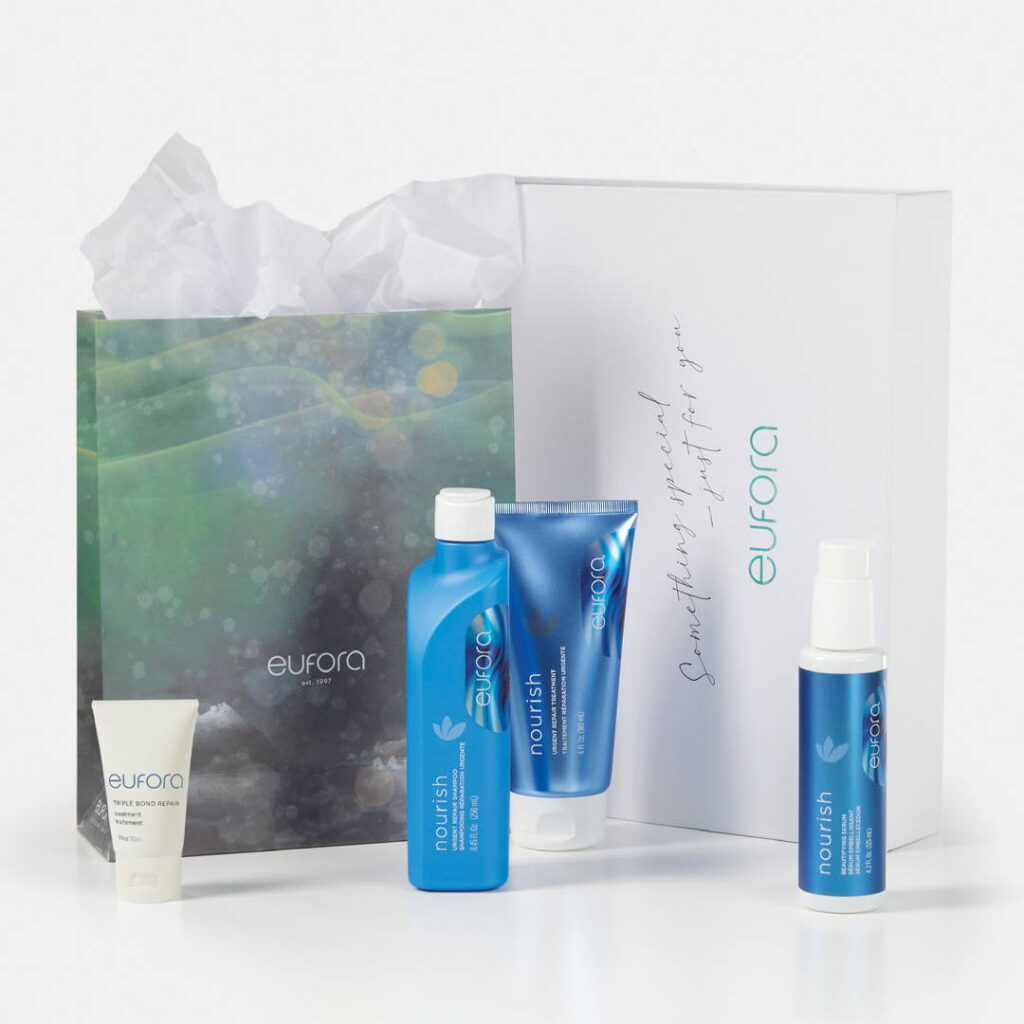 Eufora Urgent Repair Gift Box
Get the Eufora top selling duo at a special holiday price. Instantly detoxify, cleanse and remove build-up while restructuring and replenishing dry, stressed and damaged hair.
Urgent Repair Shampoo 8.25oz
Urgent Repair Treatment 6oz
Beautifying Serum 4.2oz
Triple Bond Repair 1oz
Eufora Hero Cleanse & Treat Gift Bag
Personal grooming products designed for men who demand top quality ingredients with high performance results.
Eufora Hero Toiletry Bag
Complete Shampoo 10.1oz
Revitalizing Treatment 6oz
Scalp Rescue 3.4oz
Eufora Hero Scalp Therapy Brush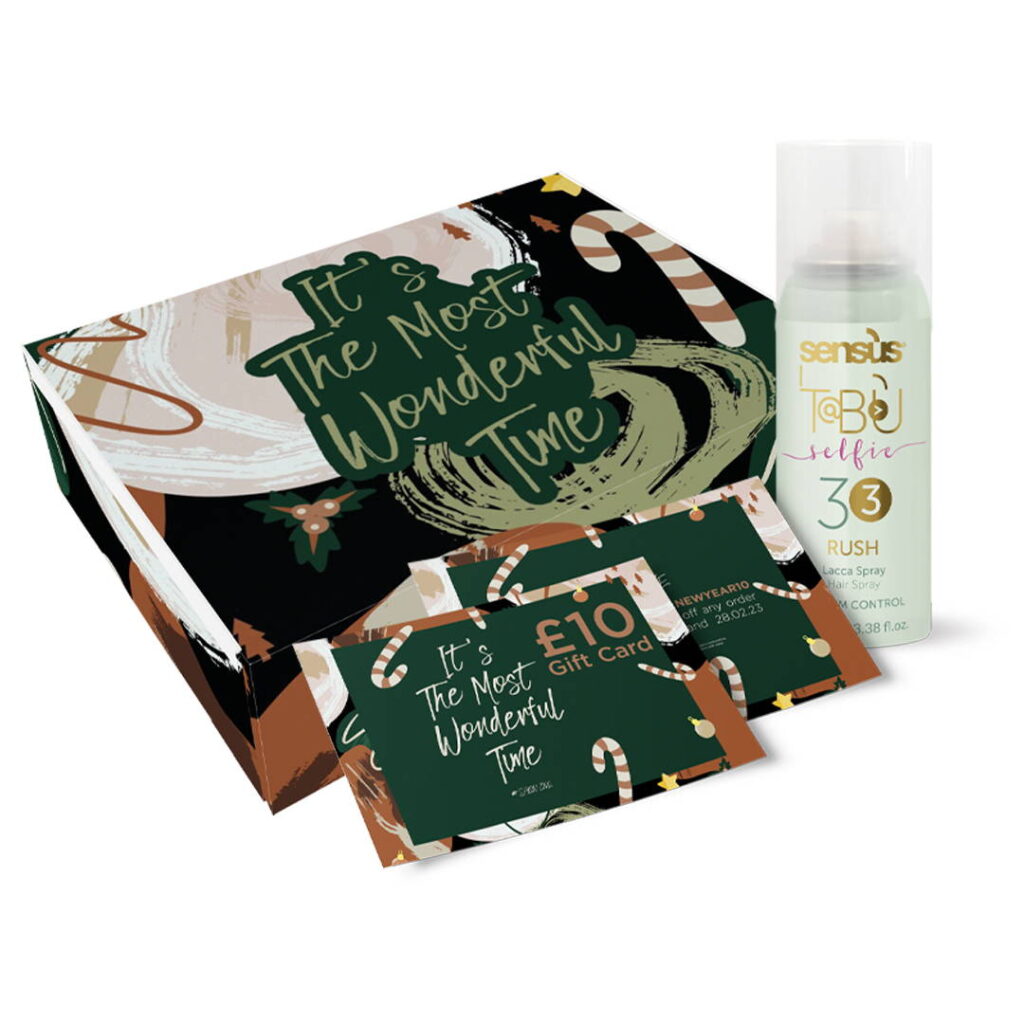 Purchase any three Sens.ús Illumyna or Sens.ús T@bu products and receive a festive gift box including Sens.ús Rush 100ml and £10 gift card to spend online In January 2024
Simply fill out the form below to secure your pre-order. Select the Gift you wish to purchase. We will reserve the stock and be in touch.